Tequila-spiked Pineapple Salsa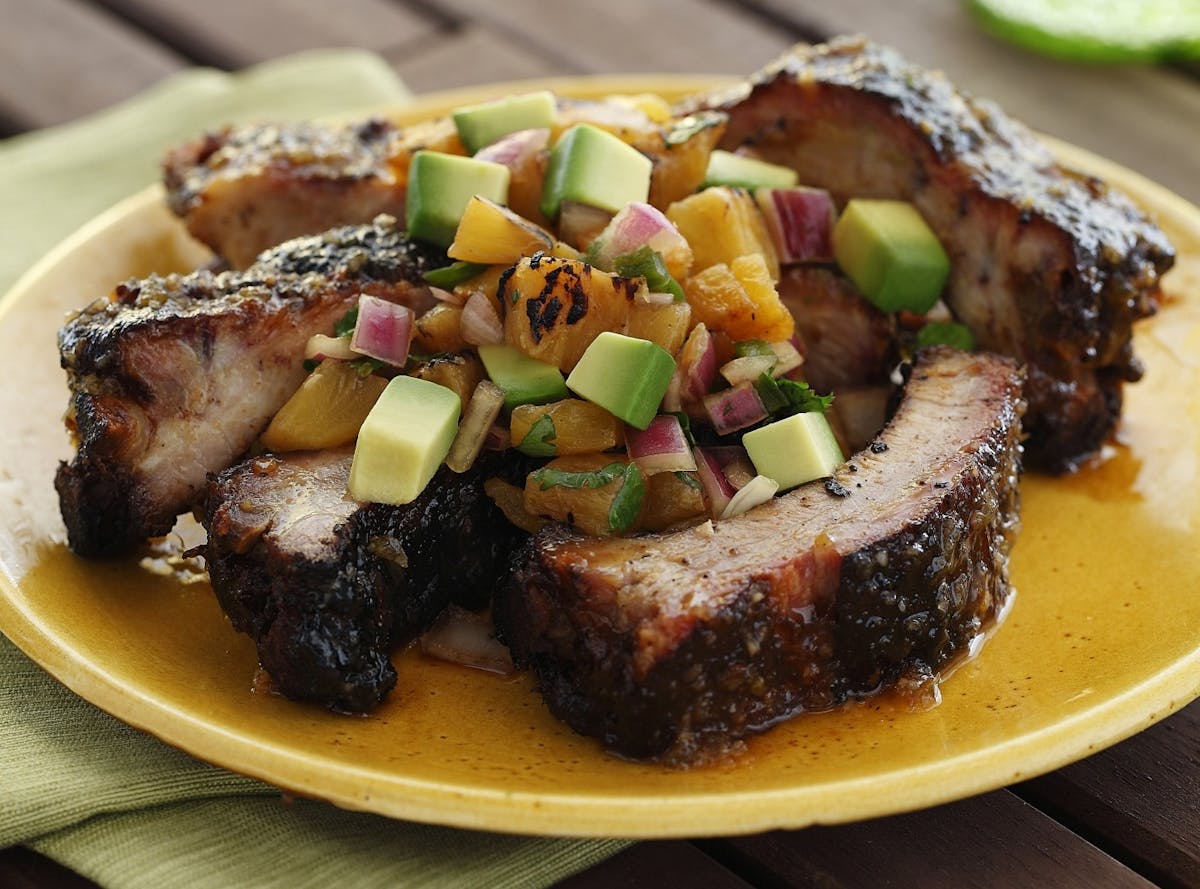 Tequila-spiked Pineapple Salsa
2 tablespoons freshly squeezed lime juice
2 tablespoons tequila
2 tablespoons brown sugar
1/2 ripe pineapple, trimmed* and cut into 1/2-inch slices lengthwise
1/4 cup white balsamic vinegar
1/2 small red onion, cut into 1/4-inch dice
1 jalapeño pepper, stemmed, seeded if desired, and minced
1/2 cup chopped fresh cilantro
1 tablespoon extra virgin olive oil
1 teaspoon salt
1/4 teaspoon freshly ground black pepper
1 ripe California avocado, halved, seeded, peeled and cut into 1/4-inch dice
In a shallow bowl, combine lime juice, tequila and sugar. Add pineapple and toss to coat thoroughly. Let marinate for 30 minutes. Remove pineapple and set aside.
Transfer marinade to a saucepan over medium heat. Add vinegar and simmer, stirring often until reduced by half. Remove from heat and cool to room temperature.
Preheat grill to medium high. Wipe grill with an oiled towel and place pineapple on grill at an angle. Cook for 6-8 minutes, turning frequently until outside of pineapple is lightly golden and caramelized.
Remove from grill, let cool and cut into 1/4-inch dice.
In a bowl, combine pineapple with reduced vinegar mixture. Gently toss in onion, jalapeño, cilantro, olive oil, salt, pepper and avocado. Taste and adjust seasonings as necessary.
Serve with your favorite baby back ribs or tacos.
Note: If making salsa in advance, refrigerate overnight and wait to add avocado until 30 minutes before serving.
*To trim pineapple, cut off top and bottom and stand it upright. Cut off the rind, using a sharp knife in smooth downward motions. Remove any remaining "eyes" with the tip of a paring knife. Cut in quarters lengthwise and cut out woody core.