Chef Mary Sue's Sicily Bike Tour with Tourissimo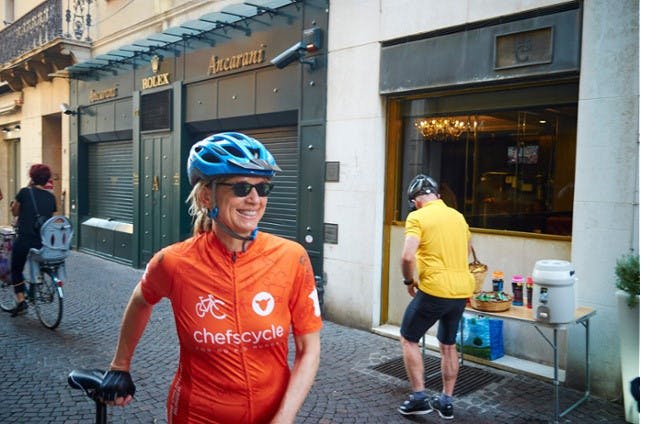 To me, travel is like church. When I go to a new place and experience new things, it puts all my problems in perspective and reminds me of how small I really am. It also gives me an enormous sense of place, and connects me to the earth on a completely different level. Getting outside and diving head first into the culture I'm visiting is always transformative, which is why I can't wait to get back on my bike with Tourissimo for my second bike tour in Italy.
Last June, I was fortunate enough to join Beppe and his crew for an impressively planned ride through the Emilia-Romagna region of northern Italy. Famous for its Parmigiano Reggiano and Prosciutto di Parma, I knew that I would be in chef heaven. What I didn't expect is how intimate of a look I would get at the locale. Cycling through the countryside next to fields and fields of grapevines was one thing, but our planned stops along the way gave us unforgettable, hands-on experiences that no other tour could provide. Our visit to a cooking school where we were able to cook with area chefs is an example of one of the many fresh angles this tour yields. We ate so much there, but felt no guilt since we knew we were going to burn off every last calorie as we rode to our next destination. You never know what surprises you'll encounter when you roll into a new town. Check out the enchanting town of Bagno di Romagna.
The last time I was in Sicily, I went with the State Department as part of the Culinary Diplomatic Corps where I competed in the Annual Couscous Festival. This very friendly competition is more of a celebration of culture, as around fifteen nations bring in chefs to show what they can do. It was here that I got a glimpse of the Sicilian compassion and way of life- and it's stuck with me ever since. I've always wanted to go back, and I'm excited to see what new perspectives Tourissimo can give me during our tour in a few short months. If you come along with us, you'll get the opportunity to view the culture of Sicily through a chef's eyes. Traci Des Jardins and I have been traveling together for the better part of 20 years, and we love discovering food together. We would love to share that love for discovery with you as well, and May is the perfect time to travel to the region, as the landscape is utterly breathtaking. We'll play games, eat delicious foods, drink exquisite wines, get our exercise, and achieve a real feeling of reverence being on such ancient ground. Traveling on the roads that centuries of our predecessors have traveled helps us connect with each other on a deeper level- and that's something we need now more than ever.
If you love good food, cycling, and breathtaking views you won't want to miss this special edition culinary bike tour from May 5-12, 2018.
Cheers – Mary Sue