Aguas Frescas and Liquados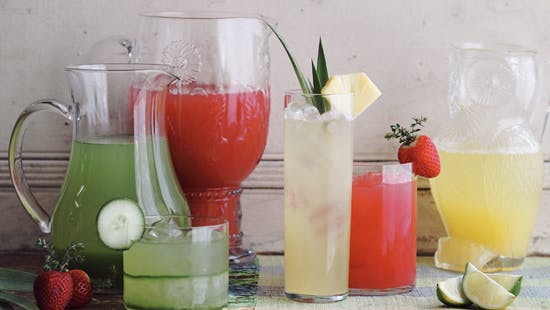 These homemade refreshers are the perfect accompaniment for any party. Instead of opening a bottle of wine or putting beers on ice for your next get together, try filling glass punch bowls and pitchers with brilliant tart red hibiscus water, sweet and sour tamarind water, or chia limeade for an extra dash of color and charm to the table.
Chia Lime Agua Fresca
Makes 9 cups
2 quarts water
1 cup freshly squeezed lime juice
1 cup sugar
1/4 cup chia seeds
Several sprigs of fresh sage for garnish (optional)
Stir together the water, lime juice and sugar until the sugar is dissolved. Stir in the chia seeds and garnish with the optional sage sprigs. Serve in tall glasses over ice.
Hibiscus Agua Fresca
Makes 1 1/2 quarts
2 quarts water
3/4 cup dried Jamaica or hibiscus flowers
1/2 cup sugar or honey
Orange slices for garnish
Bring the water to a boil. Add the flowers and return to a boil. Reduce to a simmer and cook 10 minutes. Stir in the sugar or honey, strain into a pitcher and refrigerate. Serve cold over ice with slices of orange as garnish.
Tamarind Agua Fresca
Makes 2 1/2 quarts
1 1/2 pounds dried tamarind pods or 1 pound pulp with seeds
1 gallon water
1 cup sugar
Remove and discard the hard outer pods of the dried tamarind. Combine the remaining dried tamarind or the prepared pulp with the water and bring to a boil.
Cook over medium heat about 30 minutes, or until the flesh is very soft, occasionally stirring and mashing with a whisk to break up the flesh and separate the seeds. Strain and discard the solids. Cool to room temperature and chill. Serve in tall glasses with plenty of ice.
Fresh Fruit Liquados
Liquados are lighter than milk shakes and can utilize virtually any fruit that is well ripened.
Makes 1 quart
2 1/2 cups chopped ripe fruit, such as 1 banana plus 10 strawberries, 1 small cantaloupe, 1/4 pineapple, 2 peaches or 2 kiwis plus 1 banana
1 1/2 cups cold milk
2 cups chopped ice
3 tablespoons honey
Combine the fruit with the milk, ice and honey in a blender or food processor and puree until smooth. Pour into tall glasses and serve immediately.